An HR and Employee Benefits Platform for Free
Technology is playing an ever greater role in the implementation and administration of employee benefits programs. Comprehensive Benefits Services' all-in-one HR and employee benefits platform can save you time and money by easing the burden of administration and compliance. Provide your employees with 24/7 access to their benefits information. Automate your onboarding and HR processes. Capture data for required compliance reporting. Everything in one place. Easy to manage. Easy to use.
Why It's Free
When you choose Comprehensive Benefit Services to manage your benefits we get paid by the insurance carriers, so you pay nothing. There's no catch, and your current benefits pricing is not impacted in any way. We provide our platform to you for free because the technology allows us to serve more companies more efficiently. You get the benefit of a state-of-the-art HR platform and the HR and compliance expertise enjoyed by big companies without paying the big company price, No hidden fees. No surprises.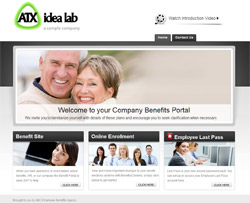 BenefitsEASY Portals
Looking for something more basic? Implement a BenefitsEASY portal. This portal is a cost effective way to provide employees 24/7 access to your company benefits and HR information. A BenefitsEASY portal is easy to implement and fully customizable. Click on the link below to access our BenefitsEASY Portal demo.
Application Tools
If you have a small group, the process for shopping your coverage to other carriers can often be a nightmare with multiple paper applications and a myriad of different and inconsistent health questions. Faced with the choice of paying more for coverage or undertaking the daunting and time-consuming application process, companies often choose to simply pay more.
Our online application tool simplifies the application process for you by providing your employees with an easy to use HIPAA-compliant online application. The single on-line application simplifies the process allowing us to shop your coverage to multiple carriers without having your employees fill out multiple time-consuming paper applications.
Employee Education Tools
Online education is proving to be a highly effective means of training people, and studies have shown that on-line training is more effective than face-to-face learning. Companies can easily track participation, completion and improvement with on-line education. The strong growth rates of online education suggest that people understand that online education works.